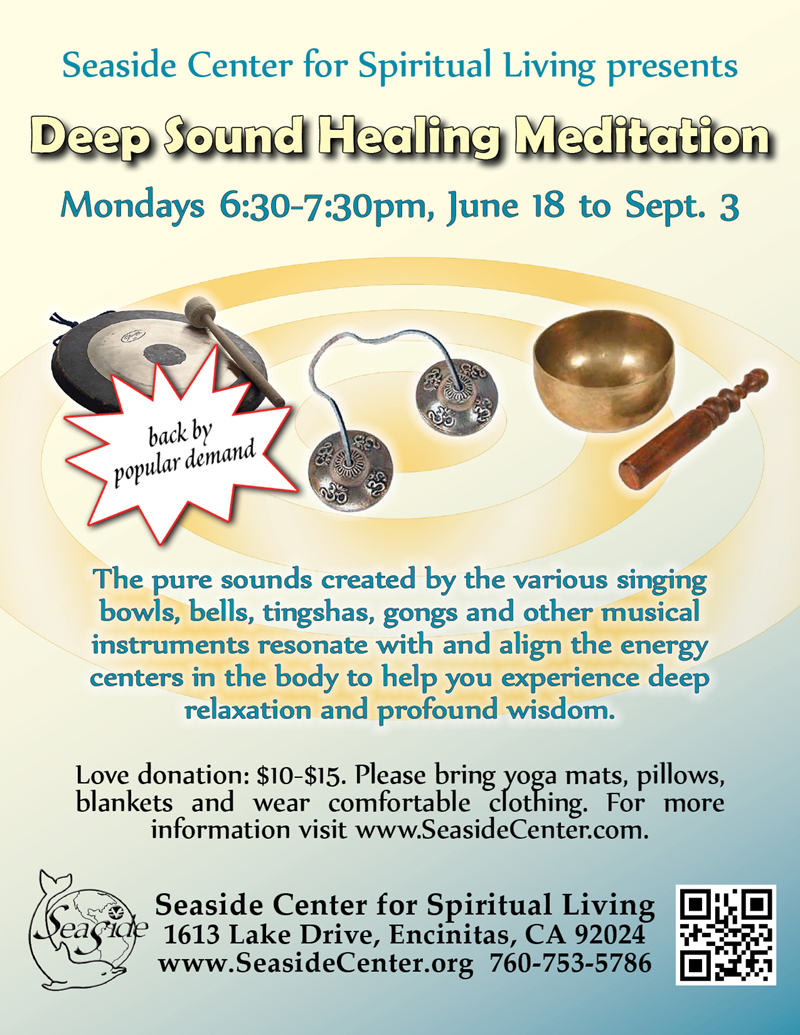 End of Summer Sound Meditation Series Celebration
September 03, 2012 - Monday 5:00 - 8:30
We invite you to the last day of our sound meditation event. Come and celebrate with us.
Seaside Center for Spiritual Living has been hosting Deep Sound Meditation with
Tibetan Singing bowls and other instruments throughout summer. To conclude our twelve
week series we will be hosting the Monks from the Tibetan Monastery in Escondido, CA
who will be conducting the World Peace Ceremony.
Here is a summary of our program.
* A World Peace Ceremony by Drupon Samten Rinpoche, a resident high monk at the Tibetan Monastery in Escondido,
* Sound and Vibrational meditation with Singing bowls, Gongs and other instruments,
* A wonderful company with our volunteer musician friends
* Freshly prepared vegetarian dinner.

If you wish to volunteer or would like to learn how to cook Vegetarian/Vegan food, please
contact Kay Samuelson at the meditation or write to us at deepsoundmeditation@gmail.com
Program Listing:
2:30 - 5:00pm :- Dinner Preparation
5:00 - 6:15pm :- Dinner
6;15 - 6:45pm :- World Peace Ceremony
6:45 - 8:00pm :- Sound Meditation
8:00 - Closing :- Music
We thank you for your participation and appreciate your contributions
to our Non-profit organization - Bishwa Seva Foundation.
For more info, Please Visit
www.deepsoundmeditation.org and www.bishwaseva.org
Thank you,
Sincerely,
Deep Sound Meditation Family