Blessed Awakening One and Seeker of Truth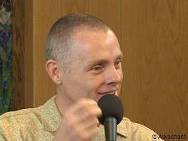 You are invited to join us this Wednesday night in the Chapel of
The Unity Center where we will be watching a lecture
by Adyashanti called A Shift of Perception.
A little description of it is as follows:
"Your version of reality is an illusion. It doesn't exist outside your head. Enlightenment is just seeing things as they are; --all that's needed is a shift of perception.
But beware, Adyashanti warns "there's nothing in it for the ego." Dialogues include a live
example of ego's terror in the face of extinguishment and amply demonstrate that awakening
is just a starting point of the spiritual journey."
Many of us consider Adyashanti a fully enlightened spiritual teacher that is very helpful,
humorous, and detailed in his descriptions of the spiritual path to enlightenment.
A meditation begins at 6:45 pm, the video starts a little after 7:00 pm.
Donation is $5.00.
Do join us if you can, for this golden opportunity.
Peace and blessings,
Will