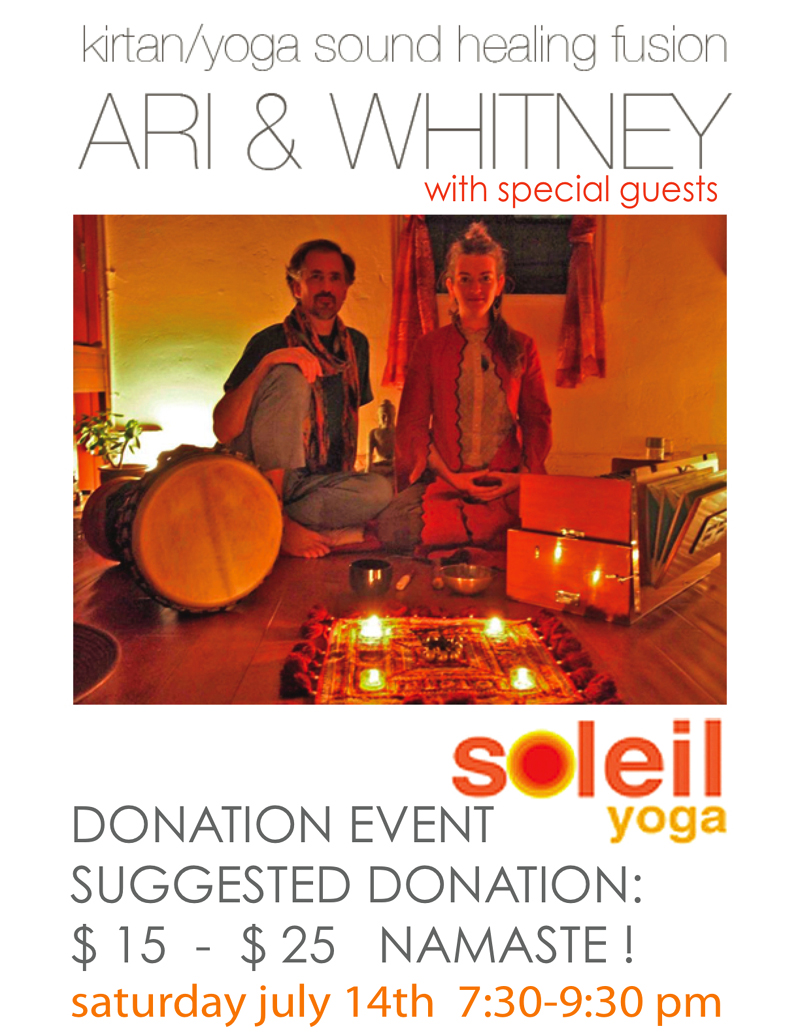 JOIN US This Saturday Night as Ari Marsh & Whitney Kear return to
SOLEIL Yoga Studio in Cardiff for a special

SUMMER 2012 KIRTAN & SOUND
HEALING Event
with Special Guest world-groove percussionist, Dave Nandan Powell!
THIS SATURDAY evening, July 14, 7:30-9:30 pm
$15 - $25 Donation
SOLEIL Yoga Studio and Surf Art Gallery
2083 San Elijo Drive @ Seaside Plaza next to Seaside Market in Cardiff
(between Cardiffit & Starbucks)
Suggested Love Donation $15 - $25. Everyone is welcome!
No one turned away for lack of funds.
Beautiful singer and Sound Healer, Whitney, and kirtan world chant
artist, Ari, will guide us through a musical tapestry of heart-opening
songs and sounds with guitar, harmonium, percussion, and crystal
bowls. Whitney will close the evening with a guided meditation and a
deep, relaxing, crystal bowl savasana. Surely to be a rejuvenating and
inspiring evening of community, expansion, and musical celebration!
Please wear comfortable clothes, feel free to bring your own cushions
or blankets.
Check out the event on facebook:
https://www.facebook.com/events/389594271103063/